With more than 20 heavy-duty bandsaws and up to 60-inch capacity, the company has been helping customers cut a large variety of parts for more than a half century.
With more than 50 years' experience in offering sawing solutions, Houston Metal Sawing benefit from a wealth of knowledge when cutting a variety of materials.
Join Austin Zimmerman, product specialist at Houston Metal Sawing, as he takes you through a detailed walkthrough of how we accurately cut a 36-inch piece of 1018 Carbon Steel in our facility in Houston, Texas.
Titanium is renowned for its high strength, corrosion resistance, and lightweight properties, making it sought-after material in the aerospace, medical, and automotive industries.
Discover why this high tensile strength, magnetic steel is chosen for demanding projects and how different stainless steels, like Martensitic and Austenitic, have unique applications.
Join Austin Zimmerman, product specialist at Houston Metal Sawing, as he guides us through the process of cutting Monel 400 – a nickel-copper alloy known for its high corrosion resistance and tensile strength.
Watch a step-by-step demonstration of cutting 316 stainless steel tubing using our cutting-edge Velox VX-560-DC machine. 
Explore cutting Carbon Steel Grating at Houston Metal Sawing using the Q501 IC Blade and C-5200 Coolant from Sawblade.com
SAE 304 stainless steel is the most common stainless steel. The steel has a higher corrosion resistance than regular steel and is widely used because of the ease in which it is formed into various shapes.
Here at Houston Metal Sawing, we can cut it all! In this video, we'll show you how we cut a 54″ duplex stainless steel tube on our HEM Saw 60″ capacity, thanks to our Qsaw 1002 carbide blade.
Houston Metal Sawing is your partner for large-scale industrial metal sawing. We can handle any size project, and our saws are capable of cutting through any type of metal.
Chromoly steel is a type of low alloy steel that gets its name from a combination of the words "chromium" and "molybdenum" – two of the major alloying elements. 
Nickel-Chromium is designed to resist a wide range of severely corrosive environments, pitting and crevice corrosion. This nickel steel alloy also displays exceptionally high yield, tensile, and creep-rupture properties at high temperatures.
Collet connectors withstand the bending stresses and separating forces caused by well pressure, riser tension, and vessel motion for long, reliable operation in oil and gas industry.
Typically dealing with steel, we occasionally find ourselves working with aluminum, like this 6061 plate. This versatile material is soft, lightweight, and exhibits medium to high strength, good weldability, and exceptional machinability.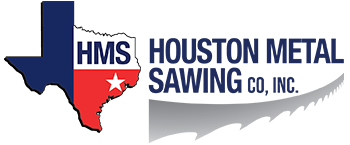 Monday through Friday
8:00 AM to 5:00 PM Central Time
Address 6938 Barney Rd
Houston, Texas 77093